Customer Review for Water Damage, Mold Testing & Mold Remediation
Ann from Rocky River, Ohio wrote: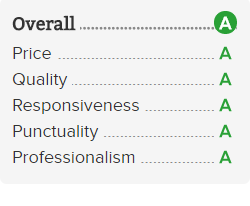 Rick contacted me immediately upon receiving my email from Angie's List.  We arranged an appointment for him to come and evaluate the damage in my basement from the heavy rains in June. His

moisture meter

gave information that indicated lots of water behind the paneling which necessitated removing it to get rid of the mold. Rick's employees were very polite, prompt and hard working.  All the work was done in the time frame Rick gave me, and they left my basement clean, neat and sanitized. I would recommend Dutch's Mold Inspections to anyone looking for a high quality and honest business owner like Rick Nesselhauf. He and his workers were terrific and did a great job.
Description of work:
removed the water damaged paneling in my basement and sanitized everything for mold.
Cleveland Mold Inspection & Mold Remediation Customer Reviews
We are very proud to be an Angie's List Super Service Award winner since 2010 and maintain an A rating. At Dutch's Mold Inspections & Mold Remediation Services we cover the greater Cleveland area - including Lorain, Erie, Huron, Medina, Cuyahoga & portions of Summit, Portage & Geauga counties. It can be challenging to have such a wide area of coverage but we believe that treating each customer with respect and honesty is the ONLY way to do business. Based out of North Ridgeville, western suburb of Cleveland, our team basically works out of our trucks so at any time we could be on a mold remediation job in Solon, OH while doing a mold inspection in Medina an air quality inspection in Amherst - so if you live within a 45 minute drive of Cleveland, we can usually schedule an appointment within a few days. 
When you talk to Dutch's Mold Inspections & Mold Remediation Services you're likely to speak with Rick Nesselhauf, owner and operator. He is one of our certified mold inspectors and has the most experience and education (check out his certifications) so he will likely get as much information as possible on the phone in order to understand your situation as he schedules an appointment. Rick has a real passion about making sure your home is healthy and that dangerous mold and other allergens are identified, removed and managed with proper ventilation. 
Water Damage, Mold Testing & Mold Remediation – Rocky River, 44116