Customer Review for Mold Testing & Remediation Quote for Purchase of House
Chris of Cleveland Heights, Ohio wrote: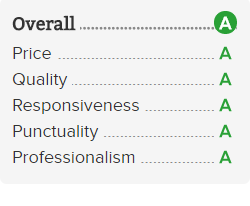 Home inspection of foreclosed property revealed mold. Mold testing revealed severe mold problem from attic crawl spaces to basement. I sought three estimates before close to negotiate lower price with bank. Rick was the first one to inspect. He was on time, professional, took meticulas notes, measurements and was very informative, answering my many questions with patience. After our experience with other providers (see below) the obvious decision was to go with Rick's company.

One company came out to inspect project and never submitted a bid even after repeated calls and emails.
Second company did cursory inspection then submitted only a verbal estimate and then only after many phone calls (after three weeks) and estimate was significantly higher than Dutch and too late to be used in negotiations with bank.

Rick advised us to complete all construction projects that require demolition, sanding, scraping, everything until painting at which time he will revisit our home and bio wipe and seal every surface including closets, shelves, ceilings, walls, etc. He says my home will never again be this clean. I can hardly wait. This kind of project involves health issues and is expensive so you want it done right. I have a friend who had several bad experiences with mold remediation and says I was lucky to find some I trust. I recommend Dutch's Mold Remediation without reservation.
Description of work:
Mold remediation of three floors and crawl spaces. Basement ceiling and paneling removal, hepavac, bio wiped and sealed all accessable surfaces of basement, basement crawl spaces and attic crawl spaces. Removed carpet and padding throughout, all window treatments.
Mold Remediation in Cleveland Heights, OH 44118