Customer Review for Mold Testing & Remediation Quote for Purchase of House
Helen from Parma, Ohio wrote: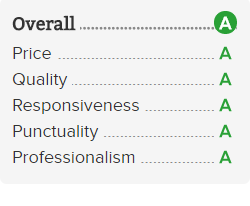 We recently had work completed by Rick Nesselhauf of Dutch's Mold Inspections. Within 2 days of my initial call to him he contacted me. Within approx. 3 weeks from date of contact the job was done. I trusted him right away because he didn't try to sell us services that he felt we didn't need. After meeting with him the first time I decided not to get more estimates. He was the only person I contacted and I know I made the right decision. He took great care with my possessions in the basement and clean-up was so good you never knew that workers were there. If you are looking for an honest, trustworthy and dependable person then Rick is your man!
Description of work:
We discovered mold in the rafters of our basement. The wood was all discolored from mold. Dutch's Mold Inspections sanitized the walls and rafters and cleaned the wood boards. He replaced the insulation between the joists because they were very dirty. They caulked areas that were exposed.
Cleveland Mold Inspection & Mold Remediation Customer Reviews
We are very proud to be an Angie's List Super Service Award winner since 2010 and maintain an A rating. At Dutch's Mold Inspections & Mold Remediation Services we cover the greater Cleveland area - including Lorain, Erie, Huron, Medina, Cuyahoga & portions of Summit, Portage & Geauga counties. It can be challenging to have such a wide area of coverage but we believe that treating each customer with respect and honesty is the ONLY way to do business. Based out of North Ridgeville, western suburb of Cleveland, our team basically works out of our trucks so at any time we could be on a mold remediation job in Solon, OH while doing a mold inspection in Medina an air quality inspection in Amherst - so if you live within a 45 minute drive of Cleveland, we can usually schedule an appointment within a few days. 
When you talk to Dutch's Mold Inspections & Mold Remediation Services you're likely to speak with Rick Nesselhauf, owner and operator. He is one of our certified mold inspectors and has the most experience and education (check out his certifications) so he will likely get as much information as possible on the phone in order to understand your situation as he schedules an appointment. Rick has a real passion about making sure your home is healthy and that dangerous mold and other allergens are identified, removed and managed with proper ventilation. 
Basement Mold Inspection & Mold Remediation in Parma, 44129