Our team at Dutch's Home Inspections, Dutch's Mold Inspections and Mold Remediation Services have seen too many homes throughout Northeast Ohio suffering from poorly managed flood clean-up work. Over the last 5 years the greater Cleveland area, including Cuyahoga, Lorain, Erie and Huron counties have seen massive amounts of heavy rains causing many homes to have flooded basements.  June of 2015 was the 3rd rainiest June on record in Cleveland since records began in 1871!
Although the team at Dutch's Mold Inspections & Remediation Services are NOT available to provide EMERGENCY flood clean-up services, we do provide scheduled, thorough basement flooding clean-up.
Unfortunately some "insurance-preferred water clean-up professionals" use sub-par equipment that removes visible water damage while leaving more than enough water for mold to foster. Carpeting is one of the highest areas of the home at risk for mold growth as mold needs moisture, oxygen, food source and a surface to grow on – all ingredients prevalent in damp carpet.
According to the International Association of Certified Home Inspectors:
Never allow standing water.  Carpet exposed to standing water will quickly be ruined.  If standing water ever occurs because of a leak or a spill, all carpeting exposed must be immediately cleaned and dried.  The top and bottom surfaces of the carpet, any padding, and the floor underneath must be cleaned and completely dried within a short period of time after exposure to standing water if the carpet is to be saved.  If a large flood has occurred, or if standing water has been present for any extended period of time, the carpet will probably need to be replaced.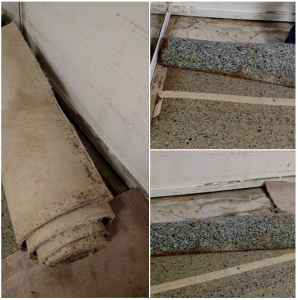 Unfortunately, when water clean-up professionals are not thorough they leave behind a breeding grounds for mold growth.  The image to the right is a picture taken in September 2015 of a water damage clean-up job botched by "insurance-preferred water clean-up professionals" that Dutch's Mold Remediation Services handled the right way – removal, remediation and sanitation.
If you have had any standing water in your basement, call Dutch's Mold Remediation Services to remove the mold infestation and sanitize the area before it spreads.
Ann Huffman of Rocky River, OH
Description Of Work: Removed the water damaged paneling in my basement and sanitized everything for mold.
Member Comments: "Rick contacted me immediately upon receiving my email from Angie's List.  We arranged an appointment for him to come and evaluate the damage in my basement from the heavy rains in June.  His moisture meter gave information that indicated lots of water behind the paneling which necessitated removing it to get rid of the mold. Rick's employees were very polite, prompt and hard working.  All the work was done in the time frame Rick gave me, and they left my basement clean, neat and sanitized.
I would recommend Dutch's Mold Inspections to anyone looking for a high quality and honest business owner like Rick Nesselhauf. He and his workers were terrific and did a great job."