The State of Ohio does not have a license for Mold Inspection or Mold Remediation therefore it is not possible to be "licensed" in Mold Inspection or Mold Remediation. At Dutch's Mold Inspection and Mold Remediation Services we have obtained all certifications available in the fields of mold inspection and remediation listed below.
If a contractor you are working for uses the word "licensed" when discussing their mold remediation credentials it could be a red flag.  Rick Nesselhauf of Dutch's Mold Inspections & Mold Remediation Services is one of the few independently operated, locally-owned certified mold inspectors and master environmental specialists in the Cleveland area. Below is a list of certifications and credentials that Rick has acquired and maintains.
Certified Mold Inspector in Cleveland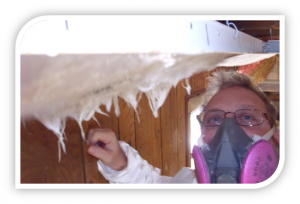 Certified Member of the American Society of Home Inspectors (ASHI) #242906
Micro Consulting Certified Mold Inspector and Indoor Air Quality Testing
Certified Mold Inspector- CMI
Certified Mold Assessor- CMA
Certified Allergen Inspector- CAI
Certified Indoor Air Quality Technician- CIAQT
Certified Mold Remediator- CMR
National Association of Mold Remediators and Inspectors - NAMRI
Indoor Air Quality Association - IAQA
In the video to the left Rick gets interviewed by a real estate company for his expertise in mold inspections and indoor air quality. Watch the video or go to our Mold Inspections Video page to learn more about the tools used by the team at Dutch's Mold Inspections & Mold Remediation Services.