Customer Review for Category: Mold Testing & Mold Remediation
Joel from Beachwood, Ohio wrote: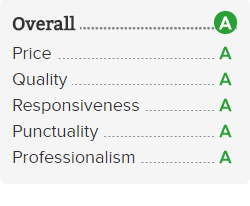 Spent close to 45 minutes inspecting the job and said there was no mold issue to deal with. Two weeks prior another company recommended by our real estate agent wanted over $2000.00 for the same work. Rick did not even want to take money and we had to beg him to at least take a small fee for his time. What an honest man!
Description of work:
Called for an estimate on mold remediation to compare to other quotes.
Cleveland Mold Inspection & Mold Remediation Customer Reviews
Quoted $2,000 for Fake Mold Removal 
It was an absolute shame these people were quoted $2,000 to remove mold that was not an issue. Unfortunately in the Cleveland area, as in most other states around the country from what we can tell when we go to conventions and seminars, the mold inspections and mold remediation companies fall into two categories:
National Restoration Companies: the larger restoration companies that are typically national, don't have veteran, highly-trained professionals and can be glorified carpet cleaners with an impressive sales pitch and scare tactics AND
Local Cleaning Companies: the smaller cleaning companies that are NOT certified in Indoor Air Quality and can cause more harm than good applying chemicals to the area and sending mold spores airborne. 
If a homeowner is unfortunate to get in contact with either of these types of "mold inspection" and "mold remediation" companies they are not likely going to see the mold inspector use the swab test, lift tape test or air sampling cassette for mold testing, and they're certainly not likely to use moisture meters, humidity detectors or thermo-hygrometers to detect the source of potential moisture (go to our Mold Testing Tools Video page). They will look at an area that smells musty or has small amounts of mold from a spill years ago and tell you with great certainty that this requires thousands of dollars to remove. The mold remediation industry is absolutely saturated with companies like that, so beware.
How to Avoid Mold Remediation Scammers
Educate yourself on the certifications a mold inspector and mold remediation company should hold, ask the right questions and look for the proper mold inspection tools before choosing a company to remove mold. And remember, when gathering quotes the cheaper isn't always better. Many companies save money by skipping critical steps to contain the mold during the remediation process, don't go through the rigorous education process required to maintain certifications and aren't using the proper equipment that will leave your air safe from mold. Although their quote might be lower, you could actually be paying them to spread mold spores throughout your home where they could start colonizing in more areas!
Although we can not guaranty a fool-proof method of making sure you don't fall prey to mold remediation scammers, here are a few pages with tips on how to properly vet your Mold Inspection or Mold Removal company:
Tools to look for and detailed explanation video on what to expect at our Mold Inspection Video page
Red flags when asking about being licensed on our Certifications page.
Proper mold remediation process your service provider should be explaining on our Mold Remediation page.
Mold Testing in Beachwood, OH 44122