Customer Review for Mold Testing & Remediation Quote for Purchase of House
Robert from Middleburg Heights, Ohio wrote: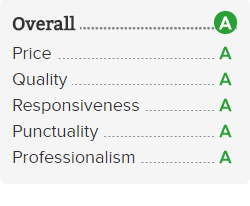 I installed a vent in one of the bathrooms during the winter. The weather was too bad to install the roof vent right away and I didn't think it would hurt for it to vent to the attic for a short period of time. Big mistake. I had vented bath vets to attics in other houses I have owned without any problems. But within about 3 weeks widespread mold growth developed on the roof sheeting. The attic is well isolated so I wasn't worried about mold infiltrating into the living space, but I was concerned about it affecting the resale value of the house.

I selected Dutch's Mold Removal from Angie's list based on good reviews and called for an estimate. Rick responded quickly and set up a day for a visit. Rick arrived at the scheduled time and assessed the attic ventilation situation. Rick seemed well-informed about mold causes and removal and gave good  answers to all my questions. He pointed out that there were not enough eave vents and that some were clogged with blown-in insulation. He also noted that the roofers had installed roof vents in addition to the power vent and that was a no-no. He gave me what I thought was a reasonable estimate to remove the mold, clear existing eave vents, install extra eave vents, and install a roof vent for the bathroom vent. Since outside work was required for installing eave vents we had to wait for acceptable weather.

When the workers came they performed the work we agreed on. I was amazed at how well the roofing appeared after the mold was removed. It looked like new. See the attached photo. I didn't take a photo of it with the mold, but it was black. I was satisfied with the new eave vents . They finished the job in less than a day and left the house as clean as it was when they arrived.

I was very happy with the job performed and I would recommend them. 
Description of work:
Removed mold from roof sheeting, added eave vents, cleaned existing eave vents, installed roof vent for bathroom
Cleveland Mold Inspection & Mold Remediation Customer Reviews
We are very proud to be an Angie's List Super Service Award winner since 2010 and maintain an A rating. At Dutch's Mold Inspections & Mold Remediation Services we cover the greater Cleveland area - including Lorain, Erie, Huron, Medina, Cuyahoga & portions of Summit, Portage & Geauga counties. It can be challenging to have such a wide area of coverage but we believe that treating each customer with respect and honesty is the ONLY way to do business. Based out of North Ridgeville, western suburb of Cleveland, our team basically works out of our trucks so at any time we could be on a mold remediation job in Solon, OH while doing a mold inspection in Medina an air quality inspection in Amherst - so if you live within a 45 minute drive of Cleveland, we can usually schedule an appointment within a few days. 
When you talk to Dutch's Mold Inspections & Mold Remediation Services you're likely to speak with Rick Nesselhauf, owner and operator. He is one of our certified mold inspectors and has the most experience and education (check out his certifications) so he will likely get as much information as possible on the phone in order to understand your situation as he schedules an appointment. Rick has a real passion about making sure your home is healthy and that dangerous mold and other allergens are identified, removed and managed with proper ventilation. 
Mold Removal & Attic Ventilation Middleburg Heights, 44130