Customer Review for Category: Basement Clean-up & Mold Remediation
Melanie from Shaker Heights, Ohio wrote: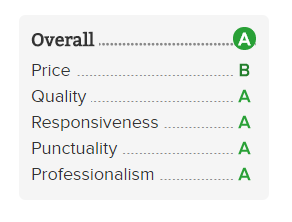 We had a moderate mold problem in our basement due to prior water leaks and deferred maintenance by the previous homeowner.   A different contractor we spoke to used scare tactics to try to get us to pay for a bunch of work to our basement that wasn't needed.  Rick was upfront and straightforward and explained the cause of our mold problems and didn't try to sell us unnecessary services.  Rick was extremely responsive and professional throughout the entire process.  He and his crew showed up EARLY both days and kept us informed of the work that was occurring.  Even though the work was very messy (they basically ripped out all of the drywall in our finished basement and disposed of it outside our house), the crew left our house spotless.  I can only say positive things about our experience with Rick and his crew!  The only reason we rated price as 'B' is that it's never fun to pay $4200 for something as un-fun as mold remediation.  However, the price is well worth the peace of mind.  Thanks Rick!
Description of work:
Removed and disposed of mold-encrusted drywall and construction materials in our basement.  Used antimicrobial, fungicide, and disinfectant to sanitize our entire basement.  Used air scrubbers and Hepa vacuum to sanitize as well.
Cleveland Mold Inspection & Mold Remediation Customer Reviews
We are very proud to be an Angie's List Super Service Award winner since 2010 and maintain an A rating. At Dutch's Mold Inspections & Mold Remediation Services we cover the greater Cleveland area - including Lorain, Erie, Huron, Medina, Cuyahoga & portions of Summit, Portage & Geauga counties. It can be challenging to have such a wide area of coverage but we believe that treating each customer with respect and honesty is the ONLY way to do business. Based out of North Ridgeville, western suburb of Cleveland, our team basically works out of our trucks so at any time we could be on a mold remediation job in Solon, OH while doing a mold inspection in Medina an air quality inspection in Amherst - so if you live within a 45 minute drive of Cleveland, we can usually schedule an appointment within a few days. 
When you talk to Dutch's Mold Inspections & Mold Remediation Services you're likely to speak with Rick Nesselhauf, owner and operator. He is one of our certified mold inspectors and has the most experience and education (check out his certifications) so he will likely get as much information as possible on the phone in order to understand your situation as he schedules an appointment. Rick has a real passion about making sure your home is healthy and that dangerous mold and other allergens are identified, removed and managed with proper ventilation. 
Basement Clean-Up & Mold Remediation Shaker Heights 44122