Customer Review for Mold Testing & Remediation Quote for Purchase of House
Danielle from Strongsville, Ohio wrote: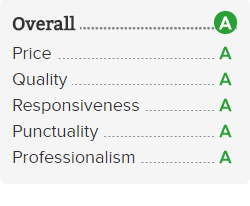 We had a general inspection that indicated there was mold in the house we had put an offer on. We decided to pursue more intense mold inspections to determine the amount, type, and get a remediation estimate so we could ask the sellers to remediate the issue. The general inspection indicated there was no moisture in the basement walls.

 

Rick, however, found the walls to be saturated (greater than 25% moisture levels), pointed out mold growing all around the basement, and also indicated some mold upstairs (these were all visual inspections). He also took air samples of the basement, first and second floors. He rushed the samples at no cost to us when USPS goofed and sent them out a day late as we were on an incredibly strict timeline as part of our purchase contract.

 

Rick updated the estimate once we found out the type/levels. All along the way, he answered tons (seriously, I sometimes emailed him 3-5x a day as I thought of questions) of questions I had as I have heard horror stories about people buying mold-infested houses. He made me feel good that with the proper remediation this wouldn't be a bad purchase. I'm so glad we contacted him because the remediation cost is around $6000 and we were able to get the sellers to pay it instead of us realizing this was an issue a few years down the road. If we ever buy again I will definitely use Rick for any mold inspections I may require.
Description of work:
We hired Rick to come do a mold inspection of a house we were purchasing, including taking 3 air samples.
Cleveland Mold Inspection & Mold Remediation Customer Reviews
We are very proud to be an Angie's List Super Service Award winner since 2010 and maintain an A rating. At Dutch's Mold Inspections & Mold Remediation Services we cover the greater Cleveland area - including Lorain, Erie, Huron, Medina, Cuyahoga & portions of Summit, Portage & Geauga counties. It can be challenging to have such a wide area of coverage but we believe that treating each customer with respect and honesty is the ONLY way to do business. Based out of North Ridgeville, western suburb of Cleveland, our team basically works out of our trucks so at any time we could be on a mold remediation job in Solon, OH while doing a mold inspection in Medina an air quality inspection in Amherst - so if you live within a 45 minute drive of Cleveland, we can usually schedule an appointment within a few days. 
When you talk to Dutch's Mold Inspections & Mold Remediation Services you're likely to speak with Rick Nesselhauf, owner and operator. He is one of our certified mold inspectors and has the most experience and education (check out his certifications) so he will likely get as much information as possible on the phone in order to understand your situation as he schedules an appointment. Rick has a real passion about making sure your home is healthy and that dangerous mold and other allergens are identified, removed and managed with proper ventilation. 
Mold Inspection & Remediation Estimate in Strongsville, OH 44136