Customer Review for Category: Mold Testing & Mold Remediation
Jeff from Fairview Park, Ohio wrote: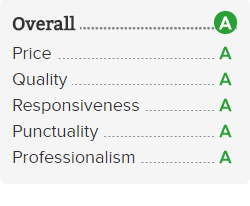 Great! They showed up to my home within 5 minutes of the scheduled time. Very polite and honest! They were able to give me helpful advice and recommended options at the lowest cost. I definitely will refer friends and family to them in the future.
Description of work:
Inspection of bathroom mold on walls
Fairview Park, North Ridgeville, North Olmsted, Westlake, Avon & Avon Lake
You may be able to tell from this review that we scheduled an inspection of a small area, the mold on bathroom walls, gave our expert mold inspection and mold remediation advice and made Jeff of Fairview Park happy to know an expert had consulted on the issue. Being based out of North Ridgeville a minor mold inspection anywhere in the Avon, Avon Lake, Westlake, North Olmsted and Fairview Park area is almost easy to fit into our schedule right away. This wasn't a huge basement area that required identifying the source of the mold in order to prescribe a remediation treatment. It was a bathroom and the source of the mold is the moisture that is continuously released into the air when showering. With proper ventilation and more moisture-resistant materials on the walls, shower and flooring, mold is typically managed in most all bathrooms without issue.
So if you have a simple question about potential problem areas for mold exposure or mold growth, and you live in N. Ridgeville, N. Olmsted, Avon, Avon Lake, Westlake or Fairview Park don't hesitate to reach out to us because in many cases a brief 20 minute consultation is all it will take for you to at least know:
Is it bad?
Do I have to worry about these mold spots?
Would it cost a fortune to get rid of it?
How do I keep it from coming back?
What do I ask in order to make sure I'm dealing with a reputable company and not getting ripped off?
We'll help you answer all those questions to make sure you're not paying for something that may not be necessary and may not be done by the right experts, at the right cost and by the right protocol to make sure you won't have to pay again. 
Cleveland Mold Inspection & Mold Remediation Customer Reviews
We are very proud to be an Angie's List Super Service Award winner since 2010 and maintain an A rating. At Dutch's Mold Inspections & Mold Remediation Services we cover the greater Cleveland area - including Lorain, Erie, Huron, Medina, Cuyahoga & portions of Summit, Portage & Geauga counties. It can be challenging to have such a wide area of coverage but we believe that treating each customer with respect and honesty is the ONLY way to do business. Based out of North Ridgeville, western suburb of Cleveland, our team basically works out of our trucks so at any time we could be on a mold remediation job in Solon, OH while doing a mold inspection in Medina an air quality inspection in Amherst - so if you live within a 45 minute drive of Cleveland, we can usually schedule an appointment within a few days. 
When you talk to Dutch's Mold Inspections & Mold Remediation Services you're likely to speak with Rick Nesselhauf, owner and operator. He is one of our certified mold inspectors and has the most experience and education (check out his certifications) so he will likely get as much information as possible on the phone in order to understand your situation as he schedules an appointment. Rick has a real passion about making sure your home is healthy and that dangerous mold and other allergens are identified, removed and managed with proper ventilation. 
Mold Inspection Fairview Park, 44126