Customer Review for Water Damage, Mold Testing & Remediation
Katelyn  from Highland Heights wrote: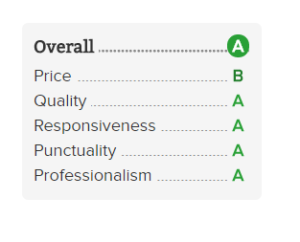 When we were searching for mold remediation, we had several quotes. We knew Dutch's Mold Inspections were not the cheapest estimate we received, but we decided to use their services because they seemed like the most thorough, and they did not disappoint. When our appointment was scheduled for 7:30 am, Rick was knocking on our door at 7:30 am on the dot. His team quickly and professionally set up dehumidifiers and plastic sheeting to limit exposure from our basement to the rest of our house. Rick had a team of three workers, who very thoroughly but very efficiently (and quickly!) took down drywall and treated for mold. Rick was very personable and took his time to show us everything that they did. They came in at 7:30 and were out by 1:00 pm. Great work, I wish all home improvement projects were this easy!
Description of work:
Treated mold in our basement caused by storm-related water damage and insufficient drainage from our downspouts. Removed drywall installed in basement by previous owner, which had been drawing in additional moisture through the walls. Stripped the walls down to the cinderblock and treated for mold with sanitizer, as well as with extensive dehumidifiers.
Cleveland Mold Inspection & Mold Remediation Customer Reviews
We are very proud to be an Angie's List Super Service Award winner since 2010 and maintain an A rating. At Dutch's Mold Inspections & Mold Remediation Services we cover the greater Cleveland area - including Lorain, Erie, Huron, Medina, Cuyahoga & portions of Summit, Portage & Geauga counties. It can be challenging to have such a wide area of coverage but we believe that treating each customer with respect and honesty is the ONLY way to do business. Based out of North Ridgeville, western suburb of Cleveland, our team basically works out of our trucks so at any time we could be on a mold remediation job in Solon, OH while doing a mold inspection in Medina an air quality inspection in Amherst - so if you live within a 45 minute drive of Cleveland, we can usually schedule an appointment within a few days. 
When you talk to Dutch's Mold Inspections & Mold Remediation Services you're likely to speak with Rick Nesselhauf, owner and operator. He is one of our certified mold inspectors and has the most experience and education (check out his certifications) so he will likely get as much information as possible on the phone in order to understand your situation as he schedules an appointment. Rick has a real passion about making sure your home is healthy and that dangerous mold and other allergens are identified, removed and managed with proper ventilation. 
Basement Clean-Up & Mold Removal – Highland Heights 44134